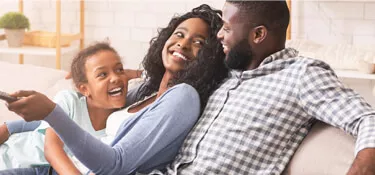 Ehlers Excellence: A Family Tradition
We Want the Customer to Be Happy
If there's one thing we want you to know about Ehlers Heating & Air Conditioning it's this: at the end of the day we always want the customers to be happy.
This is not simply a focus we pay lip service to—it is a big emphasis in our new employee training, and it's something we think about every single day.
This is reflected in our staff. When our customers think of our staff the first thing that comes to mind is that our staff is happy and very pleasant to work with! Additionally, our staff is dedicated and loyal. We have a very low turnover, and everybody enjoys coming to work.
Why Do Our Customers Stay with Us?
In addition to our dedication to customers and our happy staff, there are two other important reasons why our customers enjoy working with us and stay with us over time.
We are committed to telling you exactly what's going on with your HVAC system. We don't sell things that you don't need, and we're passionate about not overcharging.
Quality of our work. Our rigorous and comprehensive training ensures that our quality is on the highest level.
Unparalleled Product Support
When we install a system or product, we remain available and accessible to troubleshoot potential issues. If you have a small problem we will do what we can to help over the phone.
Additionally, if you have a product under warranty, we'll send out HVAC technicians outside of regular business hours, which is not common in the HVAC industry.
A Family Legacy
Every Carrier furnace or central air conditioning system we sell comes with a little something extra: Family pride.
For over half a century, families like yours have turned to our family for top-quality heating and cooling products and service. Erv Ehlers founded his business on a commitment to quality, craftsmanship, service, and fairness. This commitment to excellence is a legacy we proudly maintain today.
The Ehlers Heating & Air Conditioning team is dedicated to providing the best possible service to you and your family. You can count on us to provide you with a system that perfectly suits your needs—and to do the job right the first time, every time. We ensure your satisfaction by…
Asking the right questions, and making sure that we provide what you
want and need
Offering Carrier products, the quality leader in home heating and cooling
Thoroughly training each employee, who is NATE Certified, to see your job through from start to finish
Ensuring that every unit we sell and install performs up to your expectations
Providing quick, professional service and complete service to keep your
systems operating at peak efficiency
Ehlers Heating & Air Conditioning Company History
In April of 1961, Erv started doing business from a small garage in Redford, and the Erv Ehlers Company was born. Years of refrigeration experience and a vibrant personality set the new enterprise on a path to rapid success; soon, the growing business operated a storefront in Livonia and a custom sheet metal fabrication facility. Today's thriving 8 Mile Road location features an expansive showroom, featuring the most advanced HVAC products available today, as well as a warehouse, extensive parts department, and sheet metal fabrication shop.
Larry Ehlers, Erv Ehlers' son, joined the family business after college. Larry learned the HVAC business from the ground up, first working at his father's side as an installation assistant, and later working in all aspects of the business. Having touched many lives, inspired many people, and sharing his vast knowledge with countless technicians over the years, Erv passed away in 2010. Today, Larry leads the firm as its president and CEO, maintaining an exceptional staff of certified technicians and treating all team members like family.