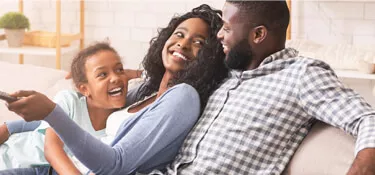 AC Repair Services in Livonia, MI
Do you need AC repair in the Livonia, MI area? With over 60 years of HVAC experience, Ehlers Heating & Air Conditioning is the AC company to call! We repair air conditioners of all makes and models and provide accurate and thorough estimates before the work is done, so you'll know exactly what we are doing.
As a family business, we pride ourselves on honest, reliable service. We treat our customers like friends and neighbors—because they are!
Our technicians are NATE-certified and available 24/7 to assist you with all of your emergency AC repairs.
24/7 Emergency Repair Services
When your central air conditioner fails and the temperature is high, you don't have long before your home or business becomes virtually uninhabitable. If you need your AC back to normal as soon as humanly possible, whether it be any time day or night, a weekend, or a holiday, don't worry — we have you covered with 24/7 emergency service.
If you need emergency air conditioner repair, don't hesitate! Dial (248) 579-2362  and request immediate service!
Air Conditioning Repair Services in Livonia, MI
For quality central AC repair in your Livonia home, count on Ehlers Heating & Air Conditioning. When you choose us, we can promise you will receive:
Friendly customer service. Our technicians will ask you the right questions and ensure that we provide what you want and need. Each employee is trained and certified to see your job through from start to finish.
High-quality products. We offer Carrier products, the quality leader in home heating and cooling. Every unit we sell and install will perform up to your expectations.
Complete, prompt & professional repair. Our goal is to keep your system operating at peak efficiency throughout its life—and to repair any hiccups along the way.
Don't suffer through your family complaining about the heat – call us today at (248) 579-2362 to schedule AC repair service!
Signs You Need AC Repair in Michigan
If you think you need AC repair, we encourage you to check the filter first and change it if necessary. A dirty air filter is one of the most common causes of air conditioner breakdowns. When the filter gets dirty and clogged, the unit can't cool as it should.
If you've checked and changed the filter and the AC still isn't working, it could be one of several common AC system problems:
Low or leaking AC refrigerant. Refrigerant is the chemical that cools the air within the AC unit. If your air conditioner's refrigerant is low, either it was filled improperly during installation, or you've got a leak—which can be very dangerous. Schedule air conditioning repair as soon as possible.
Electronic failure. When the controls or sensors on your air conditioner malfunction, your unit—along with the condenser and fan—can not operate. Luckily, electronics problems are typically a simple fix.
Fan or condenser malfunction. When your air conditioner's fan breaks down, heat transfer suffers and sometimes causes compressor damage. The condenser, the outside unit, can fail due to a refrigerant leak, debris from damaged metal parts inside, or several other reasons. A broken condenser is a serious issue that a professional should address quickly.
Frozen AC coils. How do your air conditioner's coils freeze even in the hot summer? If the airflow is compromised, moisture stays on the AC coils and freezes. Frozen coils can result in compressor failure, reduced cooling capacity, and other problems. Avoiding frozen coils is another great reason to replace the air conditioner's filters at least every three months!
Water leaks. Although a water leak is preferable to a refrigerant leak, it's still a problem. Leaking water can indicate that your AC unit has a choked drain pipe, corroded condensate pan, or other problems. Call for repair before the leaking water starts to cause mold and mildew.
Continual on and off cycling. When your air conditioner keeps cycling off and on, it could be that its compressor or fan controls are damaged or worn down. Sometimes it's an indication that the unit is too large for your home.
Overly noisy operation. Is your AC clanging, banging, clicking, or whining? There may be something broken inside that's getting knocked around. It's a good idea to get it repaired before it causes additional damage.
Many problems can occur with your air conditioning system. If you notice any of these issues, it's best to have a professional diagnose the problem as soon as possible!
If the air conditioner in your Livonia home is on the fritz, contact the AC specialists at Ehlers Heating & Air Conditioning right away!
AC Maintenance to Prevent Expensive AC Repairs
Keeping a regular AC maintenance schedule can help you discover small problems before they become critical issues — likely saving you hundreds of dollars in repair costs! Not to mention, regular AC tune-ups can provide you with tons of added benefits, including increased energy efficiency, enhances comfort, and fewer repairs!
For AC maintenance and additional benefits, sign up for our Preferred Customer Care Program by contacting our team today!
---
Order Air Conditioner Filters Online With Ehlers!
Replacing your air filters is important to maintaining an efficient central air conditioning system and improving your home's air quality. To shop online for HVAC filters, visit our online store!
---
Frequently Asked Questions
Do I need repairs, or should I replace my AC?
If your air conditioner is at least 10 years old, a replacement might save you money through improved technology and energy efficiency. If it's at least 15 years old, you're already pushing into the upper reaches of its life span and will need to replace it soon either way. If it's newer than that but prone to problems or doesn't fit your home correctly, replacement may also be a wise choice.
How can I minimize the cost of repairs in the future?
Regular professional tune-ups will greatly reduce the frequency and severity of your repairs over the life of your air conditioner. Regular maintenance identifies the little problems that can turn into minor repairs, and it can prevent the minor repairs from turning into major repairs or a replacement. It also improves energy efficiency and performance!
Is it okay that my AC is always running, or does it need repairs?
Ideally, during the hottest days of the year, your AC will run constantly and keep your home comfortable but not cold; it's better for your unit to run continually because an AC is inefficient at starting but efficient once it starts. You only have a problem if it won't turn off when the thermostat says it should or if it cycles on and off constantly.
Can I do any repairs myself?
The majority of repairs you'd need to do on an air conditioner require specialized knowledge and tools to perform safely. You might be able to service issues that aren't directly related to the main components of the air conditioner, though you won't be identifying the root issue. You might be able to clear obstructions in your ducts, swap out dirty filters, or fix an obvious drainage issue that's leading to freezing. If you're struggling to fix one of those issues yourself or you have a more serious issue on your hands, you should contact a professional.
Schedule AC Repair in Livonia & Southeast Michigan
When you need trustworthy air conditioning repair, schedule it with Ehlers Heating & Air Conditioning. Our friendly, NATE-certified technicians will provide you with prompt, reliable service and have your cooling system up and running in no time!
Call us today at (248) 579-2362 for your free AC repair estimate in Livonia, Novi, Brighton, and the surrounding areas!
Customer Care
Program
Lower Utility
Bills
Properly maintained systems use 10%-15% less energy.
Increased System Life
Regular maintenance extends the life of your HVAC system.
Convenience
We call you when it is time to schedule the maintenance on your system.
Peace of Mind
A properly maintained system will help to avoid costly emergency repairs.
Buy Filters
Online
Shop for AC& furnace filters from the comfort of your own home. Keep your system performing at its peak. Yes, we deliver!
What our friends are saying
Starting with our estimate with Eric to our service technicians Dave and Rob. They are ultimate professionals. We had a new Carrier furnace and AC unit installed and we're very pleased with the work. We can tell that they take pride in their work down to the smallest detail. They were on time, courteous, know...
-Horace