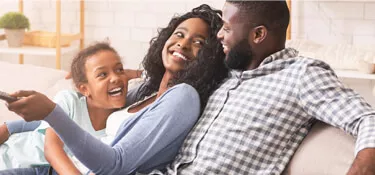 Furnace Services in Livonia, MI
Metro Detroit's Trusted Heating Company Since 1961
Your furnace is one of the biggest and most important investments you'll make in your home. You need a home heating system that's more than a match for a harsh Michigan winter, warming your home thoroughly and efficiently. You need a system you can count on year after year. And in an era of rising fuel prices, you want a furnace that isn't too expensive to operate.
Ehlers Heating & Air Conditioning's service and installation technicians are some of the most knowledgeable and experienced in the industry — that's what it takes to ensure your heating system is installed right, runs properly, and is reliable over time.
Best of all, you'll always be treated with the honesty and respect you deserve. That's the Ehlers Heating & Air Conditioning promise. Ehlers Heating & Air Conditioning has the answers to your furnace problems — our skilled technicians can handle it all.
Expert Furnace Installation
Installing a new furnace in your home provides many benefits to you and your family, including:
Increased energy efficiency, which means lower energy bills
Fewer breakdowns in the future
Consistent and even heating throughout your home
Ehlers Heating & Air Conditioning knows how important an efficient heating system is to keep your family warm on those below-zero nights in Michigan — what's why we're a Carrier Factory Authorized Dealer. When it comes to durability, performance, and value, nobody beats Carrier's full line of expertly engineered, high-quality modern furnaces.
Contact Ehlers Heating & Air Conditioning for heating installation in Livonia — call (248) 579-2362 or contact us online.
Should I Repair or Replace My Furnace?
You can usually tell when your furnace is totally lifeless. But sometimes it keeps puttering along, not at optimal performance, but not completely broken. So when should you replace your furnace? To answer that, think about these three questions:
How old is my furnace?
Have my energy bills spiked recently?
Is my home comfortable?
At Ehlers Heating & Air Conditioning, we'll work with you to determine if a furnace replacement is the best choice.
Benefits of Annual Furnace Maintenance
An annual inspection can help keep your heating system operating efficiently and help prevent costly repairs. Scheduling routine furnace maintenance with Ehlers Heating & Air Conditioning provides many benefits:
Reduced energy bills
Extended equipment life span
Fewer breakdowns
Give your heating system the care and attention it deserves by signing up for our Preferred Customer Care Program. Enrolling in the Preferred Customer Care Program means never having to worry about scheduling your maintenance appointments — we'll call you!
Call Ehlers Heating & Air Conditioning at (248) 579-2362 to schedule your annual furnace maintenance.
24/7 Emergency Furnace Repair
If you're constantly raising the thermostat to keep the heat comfortably flowing through your Livonia home, it might be time to call Ehlers Heating & Air Conditioning. Our NATE-certified technicians have exhaustive training to ensure they're knowledgeable and able to resolve any of these furnace problems:
Uneven heating of rooms
Unusual noises
Constant turning off
Yellow pilot light
Don't be left in the cold! Call (248) 579-2362 today for furnace repair.
Proud To Be a Carrier Authorized Dealer
Economical, Reliable, Energy-Efficient – That's Carrier Quality
Today's Carrier furnaces are some of the most efficient available. They're up to twice as efficient as many 10-year-old models. Installing a new Carrier furnace can save you up to 50% in operating costs as you warm your home cleanly and safely.
Offering up to 95% energy efficiency, Carrier's state-of-the-art furnace systems deliver outstanding value, paying for themselves many times over in energy savings.
Whether you choose the economical Comfort line, the efficient Performance line, or the advanced, 95%-efficient Infinity series, Carrier has the right gas furnace for your Livonia-area home and your budget. Carrier furnaces are all protected by some of the industry's strongest manufacturer's warranties: All lines offer a full 10-year limited warranty protection for parts.
The Comfort series heat exchangers are guaranteed for 20 years — and the Performance and Infinity series offer lifetime heat exchanger warranties.
Your Ehlers Heating & Air Conditioning home comfort representative will be happy to help you explore the options, compare features, and determine which system will deliver the greatest value to you.
We offer the expert installation and after-sale service it takes to ensure that your new Carrier furnace performs at optimal efficiency today and for years to come.
Carrier Furnaces We Install
59MN7 Infinity® 97 Gas Furnace
The 59MN7A Multipoise Variable-Capacity Condensing Gas Furnace features the modulating Infinity System. The innovative modulating gas valve is at the heart of this furnace's quiet operation, along with the variable-speed Infinity ECM blower motor and variable-speed inducer motor. This furnace also provides three and a half times tighter temperature control than single-stage furnaces.
With an Annual Fuel Utilization Efficiency (AFUE) of up to 98.5%, this Infinity gas furnace provides exceptional savings over standard furnaces. It also features four-way multipoise installation flexibility. The 59MN7A can be vented as a direct vent/two-pipe furnace or an optional ventilated combustion air application.
A Carrier Infinity® Control and an Infinity air conditioner or heat pump can be used to form a complete Infinity System. All units meet California Air Quality Management District emission requirements. All sizes are design certified in Canada.
59TP6 Performance™ Series 96
The 59TP6A Two-Stage Multipoise Performance™ Condensing Gas Furnace features two-stage heating comfort and SEER-boosting, year-round electrical efficiency. The Comfort Heat Technology® two-stage gas valve is at the heart of the comfort provided by this furnace, along with the electrically-efficient variable speed ECM blower motor and two-speed inducer motor.
With an Annual Fuel Utilization Efficiency (AFUE) of up to 96.7%, this Performance Series two-stage gas furnace provides exceptional savings compared to a standard furnace. This gas furnace also features four-way multipoise installation flexibility and is available in five model sizes.
The 59TP5A can be vented for direct vent/two-pipe, ventilated combustion air, or single-pipe applications. All units meet California Air Quality Management District emission requirements.
58STA Gas-Fired Furnaces
The 58STA four-way multipoise gas furnaces feature Carrier's QuieTech™ noise reduction system for incredibly quiet induced draft operation. Applications are easy with a four-way multipoise design, through-the-furnace down-flow venting, 13 venting options, and a door designed for easy service access. An inner blower door is provided for tighter sealing in sensitive applications.
The 58STA furnace is approved for use with propane or natural gas and in Low NOx Air Quality Management Districts.
For more products, visit Carrier.com.
Call Ehlers for Furnace Services in the Livonia Area
For prompt and reliable furnace installation, repair, and replacement in the Livonia area, you can count on Ehlers Heating & Air Conditioning for electric and gas furnace services. We aim to do more than install or repair your home's heating system.
Our goal is to make you a customer for life! At Ehlers, we:
Contact Ehlers Heating & Air Conditioning at (248) 579-2362 for furnace installation, repair, maintenance, or replacement.
Customer Care
Program
Lower Utility
Bills
Properly maintained systems use 10%-15% less energy.
Increased System Life
Regular maintenance extends the life of your HVAC system.
Convenience
We call you when it is time to schedule the maintenance on your system.
Peace of Mind
A properly maintained system will help to avoid costly emergency repairs.
Buy Filters
Online
Shop for AC& furnace filters from the comfort of your own home. Keep your system performing at its peak. Yes, we deliver!
What our friends are saying
Starting with our estimate with Eric to our service technicians Dave and Rob. They are ultimate professionals. We had a new Carrier furnace and AC unit installed and we're very pleased with the work. We can tell that they take pride in their work down to the smallest detail. They were on time, courteous, know...
-Horace