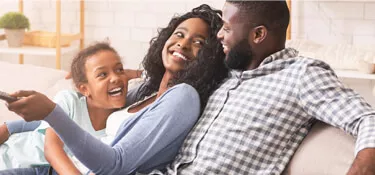 Humidifiers in Livonia, Michigan
The long, cold winters here in Michigan make your furnace work overtime. It's proficient at generating heat, but hot, dry furnace air saps your home of all moisture. This leaves you with a sore throat, sinus issues, chapped lips, and itchy skin.
The solution to these problems is to run a whole-house humidifier. Opt for a professional Carrier humidifier from Ehlers Heating & Air Conditioning. Then, choose us for humidifier repairs as you need them.
To schedule humidifier installation, replacement, or repair in Livonia, MI, please call us at (248) 579-2362.
Humidifier Services in Livonia, MI
If you are looking for a way to improve the air quality of your home or workplace, consider the addition of a humidifier. Humidifiers add moisture to the air, drastically improving air quality and consequently, your well-being. Though no one enjoys excess humidity, too little humidity can be even more irritating. This is precisely why so many homeowners have opted to have a Carrier humidifier installed in their home.
At Ehlers Heating & Air Conditioning, we can install, replace, or repair the humidifier in your home. Call or click today for indoor air quality solutions from the HVAC company your neighbors trust.
How Does a Whole-House Humidifier Work?
Perhaps you're familiar with portable reservoir humidifiers, which only increase the relative humidity in one room, but a whole-house humidifier is different. This machine generates water vapor from your home's plumbing system and works in tandem with your furnace to distribute warm, moist air to every room in your home. This means there's no need to refill a tank or worry about mold growth because the system doesn't rely on standing water. A whole-house humidifier is the easiest, most effective way to generate the perfect relative humidity level.
Humidifier Installation & Replacement in Livonia, MI
Are you done putting up with painfully dry winters that render you and your family uncomfortable for months on end? If so, choose Ehlers Heating & Air Conditioning to help you select and install the right Carrier humidifier for your home. We make sure you end up with the best unit for your needs by examining your existing HVAC system, the size of your home, your humidification needs, and other factors.
Humidifier Repair in Southeastern Michigan
Fortunately, humidifiers are reliable machines that rarely require service. Still, if something goes wrong with the filter, humidistat, float controls, fan, or electrical equipment, we provide the reliable, affordable repairs you need to get your humidifier running again.
The Importance of Air Quality
Though you can certainly find anecdotal evidence regarding the importance of indoor air quality, most homeowners are looking for proof from a respected authority. The United States Environmental Protection Agency (EPA) has ranked the quality of indoor air as one of the top five factors in determining one's health. More and more people are spending the majority of their free time indoors. The bottom line is that indoor air quality is just as important as outdoor air quality. Though you can't control the number of allergens in outdoor air, you have full control over your home's air.
A lack of moisture in your home has the potential to wreak all sorts of havoc on your body. Dry air can cause a sore throat, sinus issues, chapped lips, and itchy skin. Low humidity has the potential to dry out the wood in your furniture, causing long-term damage that ruins your investment. Dry air also draws moisture from plants, cotton, wool, and even pets. The dry air problem has reached the point where doctors are recommending humidifiers to treat allergies and asthma.
Have a Carrier humidifier installed in your home and you will immediately notice the difference. Your skin won't itch nearly as much. Your allergies and/or asthma won't be as severe. Perhaps most importantly, you won't feel sick as often. As a result, you, your family members, and your pets will feel a heightened sense of energy and well-being.
Maintaining the perfect level of indoor humidity can even reduce static electricity, preventing those uncomfortable shocks you get when touching certain surfaces. A humidifier can also save you money on energy bills, prevent the growth of mildew and mold, guard against the flourishing of dust mites, and decrease the odds of cracks forming in your beloved wood furnishings. Be proactive by installing a Carrier humidifier today.
Carrier Humidifier Installation
Our team at Ehlers Heating & Air Conditioning knows the ins and outs of indoor air. Lean on our expertise and you will no longer have to suffer through painfully dry winters that render you and your family uncomfortable for months on end. Have one of our Carrier humidifier experts examine your home's needs, including its existing heating and cooling system, and we will be able to help you pick out the perfect humidifier. One style of humidifier is not appropriate for all homes. The type of humidifier you settle on will be determined by the size of your home, your home's unique HVAC system, the relative humidity maintenance level, and water quality/cost.
Our HVAC technicians regularly install professional grade home humidifiers that make a massive difference in the lives of homeowners. We can install a home humidifier that creates vapor derived from your home's plumbing system. The distribution takes place by way of your home's ductwork. This means you won't have to re-fill the water as it will never run dry. Unlike portable home humidifiers, a whole home humidifier doesn't force the homeowner to clean or disinfect on a regular basis. There is no chance of microbial growth as the system does not require standing water. Once your Carrier humidifier has been properly installed, your home will have the perfect level of humidity.
Benefits of Installing a Humidifier in Your Livonia Home
No one enjoys excess humidity, but too little humidity can be even more irritating. That's where a whole-house humidifier comes in. Consider the benefits of installing one in your Livonia home:
Increase home comfort: By raising the relative humidity, a whole-house humidifier rids you of comfort problems associated with dry air, including sore throat, dry sinuses, chapped lips, and itchy skin.
Improve indoor air quality: You're less likely to get sick when your throat and sinuses are moist thanks to the adequate relative humidity. More water vapor in the air also makes it difficult for bacteria and viruses to float around, decreasing their contagious effects.
Reduced static electricity: Dry air results in painful static shocks when you touch a doorknob, flip a light switch, or pet the family cat. A humidifier reduces static electricity buildup to mitigate this phenomenon.
Lower your energy bills: When moisture saturates the air, less water evaporates from your skin, helping you feel warmer even with the temperature turned down a degree or two.
Protect wood furnishings: As an organic substance, wood is affected by humidity levels. If it's too dry, wood floors, cabinets, and furniture can warp and crack. A whole-house humidifier reduces this to protect your beloved furnishings.
Humidifier Installation in Your Livonia Area Home
Better indoor air means better health, and Ehlers has Carrier humidifiers, ventilators, filtration systems, carbon monoxide alarms, and ultraviolet cleaners to optimize your home's air quality. Best of all, you'll always be treated with the honesty and respect that you deserve. That's the Ehlers promise. It's how we do business, and how we earn your trust. Learn more about why you should choose Ehlers.
If you're ready to improve home comfort and indoor air quality with a whole-house humidifier, look to Ehlers Heating & Air Conditioning for the services you need. We hire NATE-certified technicians to install and repair industry-leading Carrier humidification products. With our expert team by your side, you know you'll be treated with the honesty and respect you deserve.
For humidifier installation, replacement, or repair services in the Livonia area, please contact Ehlers online or by calling (248) 579-2362 today!
Customer Care
Program
Lower Utility
Bills
Properly maintained systems use 10%-15% less energy.
Increased System Life
Regular maintenance extends the life of your HVAC system.
Convenience
We call you when it is time to schedule the maintenance on your system.
Peace of Mind
A properly maintained system will help to avoid costly emergency repairs.
Buy Filters
Online
Shop for AC& furnace filters from the comfort of your own home. Keep your system performing at its peak. Yes, we deliver!
What our friends are saying
Starting with our estimate with Eric to our service technicians Dave and Rob. They are ultimate professionals. We had a new Carrier furnace and AC unit installed and we're very pleased with the work. We can tell that they take pride in their work down to the smallest detail. They were on time, courteous, know...
-Horace