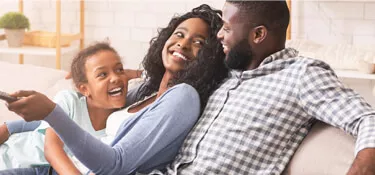 Heating Services in Livonia, Michigan
Top-Rated Boiler & Furnace Installation & Repair in Southeast Michigan
As Michigan residents, you know how brutally cold our winters can be—sometimes even reaching temperatures below zero! It takes more than some extra layers of blankets to keep your family warm from early November to March—you're constantly relying on your home's heating system. This is why the professionals at Ehlers Heating & Air Conditioning understand that a broken furnace is a time-sensitive matter that requires prompt and reliable service.
Ehlers Heating & Air Conditioning has been providing quality HVAC services to the Livonia, Michigan area for over half a century. Our heating services include:
If your Michigan home needs a new heating system installed or the current one repaired, call Ehlers at (248) 579-2362 today!
Southeast Michigan Furnace Services
Furnace Installation in Livonia
Sometimes it's hard to tell if your Livonia home's furnace needs to be repaired or replaced. When deciding, as yourself these questions:
Is your furnace more than 15 years old?
Have your home energy costs increased inexplicably?
Is your furnace repair estimate $500 or more?
Your NATE-Certified tech can help you determine which furnace is right for your home by taking into consideration the size of your home, your family's comfort needs, and other factors. We are a Carrier Factory Authorized Dealer, meaning you can count on us to meet the highest standards for service and precision while installing the best electric and gas furnaces on the market in your home.
Learn more about our furnace installation in the Livonia, MI area.
Furnace Repair in Livonia
Whether you've noticed your furnace making odd noises, or it's refusing to start, or maybe your furnace just isn't cutting it anymore—it might be time to call a professional for a furnace repair in the Livonia area. The highly trained heating technicians at Ehlers Heating & Air Conditioning can repair any make and model furnace in your home. If you have a furnace problem, we can fix it. We specialize in:
Electric furnace repair
Gas furnace repair
If you have a furnace problem, call a professional HVAC company for service and repair. Gas, oil, and propane are flammable and can be dangerous when handled without a professional.
Learn more about our furnace repair services in the Livonia, Michigan area.
Southeast Michigan Boiler Services
Boiler Installation in Livonia, MI
If your home's boiler is on its last leg, it might be time to consider a replacement. Why spend money on costly repairs time and again when you can replace your inefficient system? Ehlers Heating & Air Conditioning will work with you to decide on the best boiler unit option to heat your Michigan home.
If you're looking for the best in home heating available for your Livonia home, you can count on our experts to bring it to you. Our team will work with you directly, taking all of your heating wants and needs into account, and helping you select the best boiler for your home. Once the decision has been made, your system will be sized and installed flawlessly to optimize its performance for years to come.
Learn more about our boiler installation in the Livonia, MI area.
Boiler Repair Service in Livonia
Is your boiler cracked, leaking, or making weird noises? The experts at Ehlers Heating & Air Conditioning can help! Our HVAC technician will examine your boiler to assess what steps need to be taken to get your boiler back to operating efficiently. Depending on the boiler issue, a boiler replacement might be necessary. But don't worry—our technicians take the time to walk you through our assessment so you can understand exactly what your best option is.
Learn more about our boiler repair services in the Livonia, Michigan area.
Livonia Emergency Heating Services
A furnace never breaks down at a convenient time—it's always on the coldest weekend of the year when you can't track down a repairman until the following Monday. That's why we offer 24-hour emergency furnace repair for our Livonia area residents.
We want you and your family to stay happy and healthy this winter—which requires a warm home! If your home's heating system suddenly stops working, call (248) 579-2362, our expert Livonia heating company is available to assist you 24 hours a day, 365 days a year!
Frequently Asked Questions: Heating Services
How do I size a new heating system?
Rule-of-thumb sizing only takes your home's square footage and climate into account, but this isn't enough information to perform an accurate sizing calculation. At Ehlers, we consider your home's orientation, insulation levels, air infiltration rates, heat gain and loss, window layout, basement and attic conditions, and occupancy, in addition to square footage and climate.
What routine maintenance should I perform?
Every furnace and boiler is different, and the manufacturer's specifications vary. However, you should expect to regularly inspect and replace your furnace's air filter, clean dust and dirt from your air conditioner's outside unit according to the manufacturer's instructions, and get your systems professionally inspected at least once a year to ensure optimal performance.
How often do I need to schedule boiler or furnace maintenance?
Regular inspection is a condition of most manufacturers' warranties. Your system should be cleaned, inspected, and maintained according to the manufacturer's recommendations. If not, needed repairs may not be covered. It is usually recommended to schedule annual maintenance for your heating system.
What type of fuel should I use to heat my home?
Your primary options include natural gas, oil, and electricity. We'll help you select the best solution for your needs and budget.
Gas furnaces are the most popular fuel for home heating in the United States. If you have the infrastructure in place, natural gas is delivered to your home through pipes. This fuel is cleaner, more convenient, and often more cost-effective than oil.
Still, oil is a viable option if you don't have natural gas lines hooked up. Oil produces heat faster than gas, has no carbon monoxide risks, and keeps your home comfortable all winter.
Electricity is the most versatile option. A heat pump, ductless mini-split, or geothermal system allows you to heat and cool your home with a single piece of equipment. These options also open the door to solar-powered home heating and cooling to help you do your part for the environment.
Heating Services in Southeast Michigan, Including Livonia, MI
For prompt and reliable furnace installation, repair, and emergency heating services in the Livonia area, you can count on Ehlers Heating & Air Conditioning. We aim to do more than just install or repair the HVAC equipment in your home. Our goal is to make you a customer for life! At Ehlers, we:
Contact Ehlers Heating & Air Conditioning online or call us at (248) 579-2362 for furnace installation, repair, or emergency heating services throughout Southeast Michigan, including Livonia.
Customer Care
Program
Lower Utility
Bills
Properly maintained systems use 10%-15% less energy.
Increased System Life
Regular maintenance extends the life of your HVAC system.
Convenience
We call you when it is time to schedule the maintenance on your system.
Peace of Mind
A properly maintained system will help to avoid costly emergency repairs.
Buy Filters
Online
Shop for AC& furnace filters from the comfort of your own home. Keep your system performing at its peak. Yes, we deliver!
What our friends are saying
Starting with our estimate with Eric to our service technicians Dave and Rob. They are ultimate professionals. We had a new Carrier furnace and AC unit installed and we're very pleased with the work. We can tell that they take pride in their work down to the smallest detail. They were on time, courteous, know...
-Horace