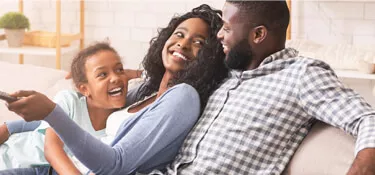 back to blog
How Can I Get Air Conditioning Without Ducts?
It may seem like ducts are required for air conditioning systems. But if you're a homeowner who can't have—or don't want to have—ductwork, having AC without ducts might seem impossible. Fortunately, that's not true! You don't need ducts anymore to get strong home cooling.
And no, we're not talking about those clunky window AC units. So if you're wondering how to get air conditioning without ducts, the answer is with a ductless mini-split system. Read on to learn more about ductless mini-split AC systems and their benefits.
Need more information about ductless AC systems in the Livonia, MI area? Contact our HVAC experts today!
What Is a Ductless Split AC System?
In its simplest form (called a "mini-split"), a ductless unit works much like a standard air conditioner. There's an outdoor unit, just like normal, and there's an indoor unit. Except in the case of a split system, the indoor unit houses a full miniature air handler system.
The unit draws warm home air in, which is then blown over refrigerant-cooled evaporator coils. Basically this means it doesn't need ducts, because it's processing the air right there in the room the unit is installed in.
This application can see whole-home use as well in the second type of split system, a "multi-split" system. In this setup there is a single outdoor unit and multiple indoor units installed throughout the home in order to provide complete home cooling. All with absolutely zero ducts at all.
Want to learn more about ductless mini-split systems for homes in the Livonia area? Contact us online today!
Why Choose a Ductless Split System?
Aside from saving yourself the cost and stress of retrofitting ducts into a home, there are also actually quite a few perks to going ductless:
Cooling and heating in one. Ductless split systems are classified as a type of heat pump, and that means not only can they cool, but they can operate in reverse and heat, too. That covers all of your needs, no ducts required. Just high-quality air control!
High efficiency. As a newer technology, ductless systems benefit from all of the best implementations and designs available in the HVAC world. This tends to make them highly energy-efficient on their own, but then you get to add in zoning control, which allows you to precisely tune temperatures in each room you need to.
Air quality benefits. No dusty, dirty ducts that need cleaning all the time is a great advantage. And secondly, ductless units utilize a sophisticated filtration system that pulls all of the dust, pollen, and dander out of your home air.
Versatility. The indoor unit of a ductless split system is compact and simple, allowing it to be mounted anywhere on a wall, a ceiling, or nearly anywhere else. That means you can place it in inconspicuous spaces and save on all the space a larger traditional cooling system would eat up.
Ductless Air Conditioning Services in Livonia, Michigan
At Ehlers Heating & Air Conditioning, we offer our clients Carrier ductless heating and cooling system installation and repair. When you choose us, you can rest assured that you're not only getting superior services from knowledgeable experts, but also a dependable product that is going to give you the best in efficiency and performance.
Interested in finding out more about ductless air conditioning or heating in your home in Livonia, MI or surrounding area? Contact the specialists at Ehlers Heating & Air Conditioning online today!
Customer Care
Program
Lower Utility
Bills
Properly maintained systems use 10%-15% less energy.
Increased System Life
Regular maintenance extends the life of your HVAC system.
Convenience
We call you when it is time to schedule the maintenance on your system.
Peace of Mind
A properly maintained system will help to avoid costly emergency repairs.
What our friends are saying
Starting with our estimate with Eric to our service technicians Dave and Rob. They are ultimate professionals. We had a new Carrier furnace and AC unit installed and we're very pleased with the work. We can tell that they take pride in their work down to the smallest detail. They were on time, courteous, know...
-Horace