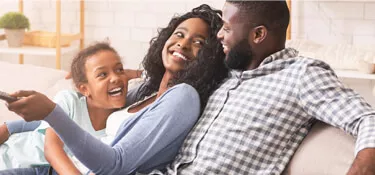 Ehlers Heating & Air Conditioning – Serving Plymouth Since 1961
Cooling Services
When you need air conditioner installation, repair, replacement, or maintenance in Plymouth, MI, call Ehlers Heating & Air Conditioning. You'll get prompt, professional service from our NATE-certified technicians.
Air Conditioner Installation
Though we can repair or service any make or model air conditioner, we are proud to install Carrier air conditioners exclusively! As a Carrier Factory Authorized Dealer, we adhere to the leading home comfort company's high standards and receive continual training and education to ensure we are serving you better.
Carrier makes energy efficient air conditioning systems for every home budget. No matter which model you choose, you'll enjoy superior comfort and impressive energy efficiency. Learn more about our Plymouth air conditioner installation services.
Air Conditioner Repair
Rely on Ehlers for skilled, professional air conditioner repair in Plymouth, MI. We are a hometown company with more than half a century of air conditioning experience behind us.
We repair air conditioners of all makes and models and provide accurate and thorough estimates before the work is done so you'll know exactly what we are doing. As a family business, we pride ourselves on honest, reliable service. Your comfort is our priority, so when you need air conditioner repair, call us right away. Learn more about our Plymouth air conditioner repair services.
Air Conditioner Maintenance
Regular maintenance is critical to keeping your air conditioner operating at peak efficiency—and keeping you and your family comfortable. In addition, a well-maintained air conditioner uses energy more efficiently.
With scheduled maintenance, any potential problems with your air conditioner can be caught and remedied before they become expensive repairs.
When you need AC maintenance at your Plymouth home, count on Ehlers Heating & Air Conditioning for trustworthy service. Learn more about our Plymouth air conditioner maintenance service.
Heating Services
Stay cozy and comfortable this winter—and maybe even lower your energy bills—with heating service from Ehlers. We provide expert heating services in Plymouth and the surrounding areas. We've been keeping our friends and neighbors warm since 1961!
Heating Installation
When you need furnace installation in Plymouth, think about Ehlers—and Carrier. We are a Carrier Factory Authorized Dealer, which means that our customers get the benefit of advanced knowledge and training in today's most advanced systems and installation techniques.
Not sure if it's time for a new furnace? If your current furnace is more than 15 years old, you could be letting money and energy flow right out of your house. Today's furnaces are significantly more energy efficient than models 15-20 years old. We can help you determine which Carrier heating system is right for your home and your budget and then install it to Carrier's precise standards. Carrier's gas furnaces can have AFUE ratings of up to 98.5 percent, which means they convert up to 98.5 percent of their fuel to heat! Learn more about our Plymouth heating installation services.
Heating Repair
If your furnace refuses to start up, isn't keeping your home warm enough, or is making loud noises, call Ehlers for repair. We provide prompt, reliable furnace repair in Plymouth for every make and model unit. We perform gas furnace repair, electric furnace repair, and boiler repair.
Have a furnace repair emergency? Ehlers' repair techs are available for 24/7 emergency heating repair. Call us right away at (248) 579-2362. We pride ourselves on our ability to detect and solve any furnace problem! Learn more about our Plymouth heating repair services.
Carrier Products
As a Carrier Factory Authorized Dealer, you can count on Ehlers Heating & Air Conditioning to meet the highest standards for service and precision.
Carrier is known for its innovations in energy efficiency. Energy efficient heating and cooling not only makes a smaller impact on the earth's resources, it also can help you save money on your home energy costs. In some cases, the savings can be quite significant; in any case, you'll end up paying less for utilities over time when you choose an energy-efficient system.
Carrier Furnaces
Carrier's gas furnaces can have Annual Fuel Utilization Efficiency (AFUE) ratings of up to 98.5 percent. And there is an energy-efficient model for every budget!
Infinity® Series gas furnaces – With variable-speed blower technology and a two-stage gas valve, Infinity® Series gas furnaces operate very quietly and boast high efficiency.
Performance™ Series gas furnaces – The furnaces in the Performance series are designed to be quiet, efficient, and easy to install in a variety of applications and spaces.
Comfort™ Series gas furnaces – Carrier's most economical furnaces, the Comfort series boasts AFUE ratings up to 95.5 percent.
Carrier Air Conditioners
With Seasonal Energy Efficiency Ratios (SEER) of up to 13-21, there is an energy-efficient Carrier air conditioner for households of all sizes and budgets.
Infinity® Series air conditioners – Every Infinity® series model is ENERGY STAR® qualified in all sizes and some boast variable-speed compression that can run as low as 25% capacity.
Performance™ Series air conditioners – Carrier's Performance™ series boasts reliable units in compact sizes—without sacrificing comfort.
Comfort™ Series air conditioners – The Comfort™ Series offers Carrier's most economical air conditioners, boasting SEER ratings of 13 to 16.
Carrier Heat Pumps
Heat pumps act as both air conditioners and heaters. Carrier heat pumps range from 13 to 20.5 SEER and 7.7 to 13 HSPF (Heating Seasonal Performance Factor).
Infinity® Series heat pumps with Greenspeed™ intelligence – This heat pump is literally in a category all by itself! The height of Carrier innovation, the Infinity with Greenspeed™ offers the ultimate in energy efficiency while providing unparalleled comfort and control.
Infinity® Series heat pumps – All six models in the Infinity series are ENERGY STAR® qualified, offering SEER ratings ranging from 15.5 to 19 and HSPF from 8.5 to 11.
Performance™ Series heat pumps – Offering both standard and compact units, the Performance series boasts SEER ratings from 13 to 17.5 and HSPF from 7.7 to 9.5.
Comfort™ Series heat pumps – Economical and efficient, the heat pumps of the Comfort series have SEER ratings of 13 to 15 and HSPF from 7.7 to 8.5.
Learn more about Carrier heating and cooling systems!
Emergency Service
When it comes to your family's safety and comfort, sometimes a repair can't wait. We have emergency repair technicians on call 24 hours a day, 365 days a year. Just call (248) 579-2362 and we will take care of you. Whether you need emergency heating repair or emergency AC repair we've got you covered.
Ehlers Expertise
At Ehlers, our installation and repair services are every bit as great as the Carrier furnaces and air conditioners we sell. Why? Two reasons: Training and Integrity.
Ehlers' service and installation technicians are some of the most knowledgeable and experienced in the industry—and we provide the exhaustive, in-depth training it takes to ensure that their knowledge of the latest products and techniques is thorough and completely up to date. That's what it takes to ensure that your system is installed right, runs properly, and is reliable over time. Best of all, you'll always be treated with the honesty and respect that you deserve. That's the Ehlers promise. It's how we do business, and how we earn your trust. Learn more about why you should choose Ehlers.
Ehlers Heating & Air Conditioning – Serving Plymouth Since 1961
When you hire a local, family-owned company with a history of outstanding service, you are investing in a rich legacy. We love our hometown of Plymouth and we are proud to be a part of this community!
Ehlers Heating & Air Conditioning started in a garage in 1961. We now occupy a sizeable showroom on 8 Mile Road, where we can showcase our wide selection of products. And we could not have achieved this without your support!
In addition to heating and cooling installation and repair, we offer a range of other products and services, including the sale of parts for our DIY customers! We also offer a Preferred Customer Care Program designed to save you money and avoid costly repairs. We are always learning new ways to serve you!
For heating and cooling service in Plymouth, call Ehlers Heating & Air Conditioning today at (248) 579-2362.
Why Ehlers?
See Why We Should Be Your FIRST CHOICE
3 Time Carrier President's Award Winner
Carrier Dealer Since 1961
NATE Certified Techs
24-Hour Emergency Service
EPA Certified Refrigerant Removal
Maintenance Plans
FREE In-Home Estimates
Customer Care
Program
Lower Utility
Bills
Properly maintained systems use 10%-15% less energy.
Increased System Life
Regular maintenance extends the life of your HVAC system.
Convenience
We call you when it is time to schedule the maintenance on your system.
Peace of Mind
A properly maintained system will help to avoid costly emergency repairs.
What our friends are saying
Starting with our estimate with Eric to our service technicians Dave and Rob. They are ultimate professionals. We had a new Carrier furnace and AC unit installed and we're very pleased with the work. We can tell that they take pride in their work down to the smallest detail. They were on time, courteous, know...
-Horace