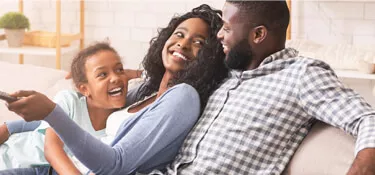 back to blog
It's Raining Cotton: How To Keep Cottonwood Out of Your AC
If you live in Michigan, chances are you've seen your fair share of cottonwood trees in the area. While pretty to look at, these trees are riddled with white, fuzzy seeds that can easily get trapped in the coils of your outdoor AC unit.
This can cause serious efficiency issues for your system, leading to increased cooling costs for your home. These pesky seeds can even get into your indoor ductwork, worsening allergies and reducing cleanliness.
Luckily, there are plenty of things you can do on your own to prevent cottonwood seeds in the air from damaging your HVAC equipment. Here's how you can control the effects of cottonwood on your heating and AC systems.
How To Prevent Cottonwood Debris From Getting in Your Outdoor HVAC Equipment
One of the most common places where cottonwood tree debris collects is in your outdoor AC unit's coils. These fuzzy seeds gather together, essentially suffocating your air conditioner, making it work harder than normal. This reduced system efficiency leads to sudden spikes in your cooling bills.
Preventing this problem is as easy as taking a garden hose to your outdoor unit. Using a spray nozzle attachment, hold the water at a 30º angle from the outside to allow the water to slide easily off the coils. By spraying at an angle, the coils will get cleaner faster.
If this doesn't do the trick, you may need to call an HVAC professional for AC maintenance or tune-up services to make sure your AC is working efficiently.
Is your AC unit not keeping up? Call (248) 579-2362 or contact us online for AC maintenance and service.
Cottonwood Tree Debris Can Affect Your Indoor Air Quality
While outdoor unit care is essential for preventing decreased efficiency, cottonwood tree debris can also get into your indoor ductwork.
Most homeowners don't realize the air in their home can be up to five times more polluted than the air outdoors. That's because allergens — such as cottonwood seeds — can get trapped in your system.
If you suffer from allergies, there could be cottonwood remnants in your ductwork.
Improving your indoor air quality can be as simple as remembering to change your air filter. It's important to note that because your AC uses the airflow from your furnace to operate, you should always replace your furnace air filter in the summer months, just as you would during winter.
If you live in an area with a particularly large population of cottonwood trees, you may wish to invest in a whole-home air purification solution, such as a HEPA purifier system.
Call Trusted Michigan HVAC Contractors for Your Cottonwood Clearing Needs
If you're struggling to keep the cottonwood debris from impacting your Michigan home's HVAC equipment, Ehlers Heating & Air Conditioning can help.
Our HVAC technicians have proudly served the region for over 60 years, making us uniquely capable of resolving issues specific to the cottonwood tree population and your heating and cooling equipment.
Ensure your equipment is clear of unwanted debris by scheduling HVAC service with us. Call (248) 579-2362 today.
Customer Care
Program
Lower Utility
Bills
Properly maintained systems use 10%-15% less energy.
Increased System Life
Regular maintenance extends the life of your HVAC system.
Convenience
We call you when it is time to schedule the maintenance on your system.
Peace of Mind
A properly maintained system will help to avoid costly emergency repairs.
What our friends are saying
Starting with our estimate with Eric to our service technicians Dave and Rob. They are ultimate professionals. We had a new Carrier furnace and AC unit installed and we're very pleased with the work. We can tell that they take pride in their work down to the smallest detail. They were on time, courteous, know...
-Horace