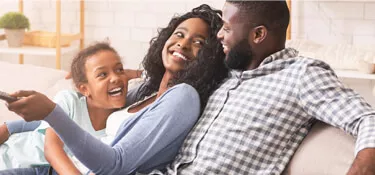 back to blog
Will Running My AC in Winter Damage It?
Your air conditioner has worked hard to keep you and your home cool and comfortable all summer. Now that the temperature has started to drop, you may be wondering if it's time to shut off your AC.
While there are instances when running your AC is okay, there are several reasons you shouldn't operate it in the winter. Here, we discuss when to shut off your unit alongside other precautions to take to best prepare for the winter.
Do I Need To Turn Off My AC in Winter?
This answer depends on the type of system you have. Heat pumps are reversible and designed to run year-round for both heating and cooling.
If you have a central air conditioner, you can technically run it in the winter; however, always be aware of the risks of damage that can come with running your unit during the colder seasons.
What Are the Risks of Running Your AC in Winter?
If the outside temperature is below 65 degrees, it's best to shut off your air conditioner. Failure to do so risks causing damage to your unit, such as:
Frozen refrigerant coils
Damaged components
Thickening lubricant
To avoid these pitfalls, turning off your AC during winter is generally recommended, especially in regions where temperatures drop. It's a preventative measure that protects your system from unnecessary wear and tear.
Prepare Your AC System for Winter
There are a few steps homeowners should take to prepare their ACs for the cold. Switching the unit off is the first step, and this should be done by not only flipping off the switch on the unit but also shutting off the electrical switch.
Next, cleaning the unit is key. Remove sticks, dirt, leaves, and other debris from the outside unit and wash off any remaining grime with a hose. Covering the unit is the next step in winter preparation. A waterproof plastic or vinyl cover will keep it safe from the harsh winter weather.
Schedule HVAC Service With Ehler's Heating & Air Conditioning
With a business that dates back to 1961, Ehlers Heating & Air Conditioning is a family-owned and -operated company that has honed our craft in the HVAC industry for decades. Our team is licensed and insured, and our NATE-certified technicians are skilled at what they do.
We offer financing options, 24/7 emergency services, and free estimates on replacement quotes for added peace of mind.
Prepare your AC for the winter with our industry-leading services. Call (248) 579-2362 today to get started.
Customer Care
Program
Lower Utility
Bills
Properly maintained systems use 10%-15% less energy.
Increased System Life
Regular maintenance extends the life of your HVAC system.
Convenience
We call you when it is time to schedule the maintenance on your system.
Peace of Mind
A properly maintained system will help to avoid costly emergency repairs.
What our friends are saying
Starting with our estimate with Eric to our service technicians Dave and Rob. They are ultimate professionals. We had a new Carrier furnace and AC unit installed and we're very pleased with the work. We can tell that they take pride in their work down to the smallest detail. They were on time, courteous, know...
-Horace